HD56 Complete Sets of Heavy Duty Roller Guides - For 20 To 80-lb. Trolling And Stand-Up Tuna Rods AFTCO's Heavy Duty (HD) roller guides, with ample room for heavy lines and large knots, are ideal for big game trolling and deep water rods rated for 20 to 80-lb. lines, and for stand-up style tuna rods up to a 130-lb. test rating. Each features Aftcote high performance bearings. Standard roller tip-tops are the perfect match for this guide series.

UB2 Unibutts® - The Combination Handle-Reel Seat That Revolutionized The Trolling Rod. Formed from the finest marine alloy using AFTCO's unique 'swaging' process, the ONE-PIECE Unibutt® aluminum butt and reel seat is 'unitized' for maximum strength and minimum weight. The aligning pin-plug, gimbal and fixed hood are locked in permanent alignment so that gimbal, reel and rod guides always line up perfectly. The ferrules are precision-machined to ensure complete interchangeability of rod tip sections, and an 'O' Ring on the ferrule prevents corrosion between ferrule and reel seat. A Teflon® ring inside the collet nut assures a snug fit, prevents galling, and allows easy removal of the nut. Stronger, lighter and simpler, AFTCO Unibutts® are available in Silver, Black, or Black-and-Gold anodized finishes.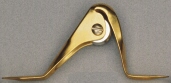 SHD 76 Complete Sets Big Foot® Super Heavy Duty Roller Guides - For 80-lb. To Unlimited Line Class Trolling Rods. AFTCO's superb line of Big Foot® Super Heavy Duty (SHD) roller guides feature rugged, roomy frames with unequalled knot clearance. Rollers and bearings are extra large and extra tough to endure the special punishment of this heaviest line class. Aftcote an exclusive Teflon® forumulation, is bonded to all bearings to provide lasting lubrication and protection. The oversized feet are precisely formed to match the contours of leading rods in this class, and they grip the rod with exceptional strength. The edges are 'feathered' to allow winding thread to 'climb' over the feet easily. Complete set of five includes the double-roller stripper guide and two each of the two super heavy duty single-roller guides, graduated in size. Our Big Foot® Super Heavy Duty (SHD) roller tip-tops are a perfect match for these guides.